Join the laundry revolution
No plastic. No toxic chemicals. Just powerful eco-friendly laundry detergent, posted through your letterbox.
What on earth are laundry 'sheets'?
Our laundry sheets are an ultra-concentrated, plastic free, zero waste alternative to traditional laundry detergents. Sheets are placed directly into your washing machine, and dissolve instantly in either hot or cold water. We only use natural ingredients, without any compromise to cleaning power.




Cruelty free & vegan friendly

Posted through your letterbox

Natural ingredients kind on skin

Zero compromise on cleaning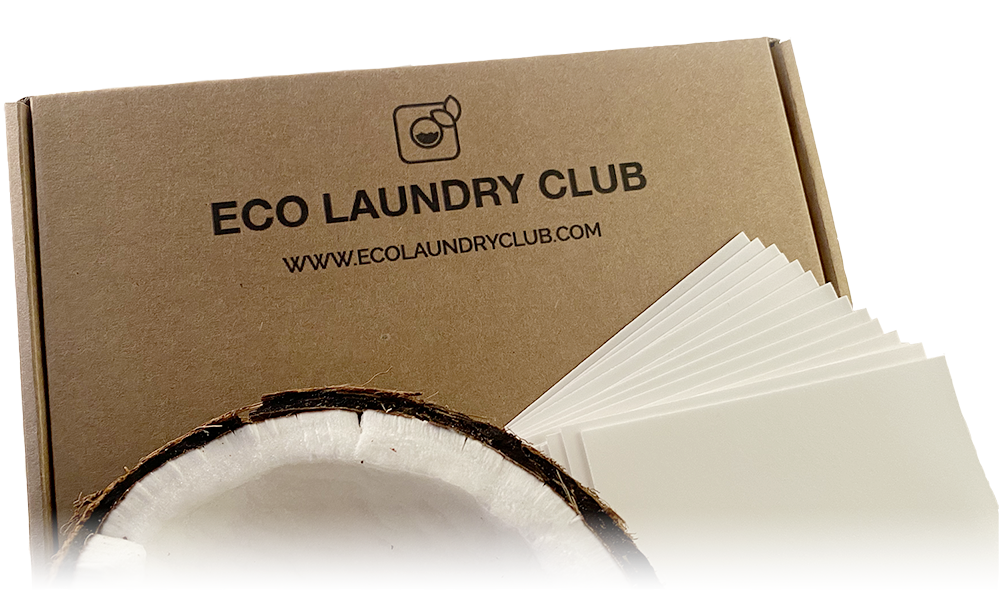 So what's Eco Laundry Club?
In response to the colossal problem we face with plastic consumption and pollution, Eco Laundry Club provides everyone with an incredibly easy way to make a small, simple change, for a potentially huge impact.
Let's face it, cutting down on plastic, recycling and being less wasteful, isn't always easy. Switching to some eco cleaning products can also seem like a compromise, especially if they cost more.
But not with our laundry sheets! They have exactly the same cleaning power as mainstream detergents, and cost the same. They take up a fraction of the space, create no mess and contain zero plastic. Nor does our formula contain any harsh chemicals - it's just a completely natural, eco-friendly cleaning product.
Better still, we'll post 40 washes-worth, straight through your letter box, as frequently as you wish. No more lugging home huge plastic bottles to cram into an already overflowing cleaning cupboard. 1 box of our laundry sheets takes up 90% less volume than the equivalent mainstream liquid detergent (which also means our carbon footprint in transportation is substantially less too. It's a win win!
Our recent Youtube advert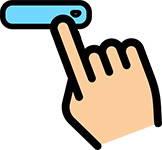 Select quantity and frequency
Simply choose the number of boxes you'd like to receive, and the frequency with which you like them delivered. Approx 40 washes per box.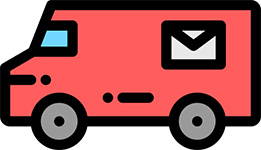 We'll post your laundry sheets
We are currently offering all new customers free delivery for life, posted straight through your door.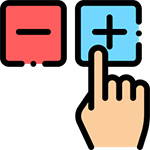 Pause, amend or cancel at any time
Through your online portal, you have complete control. Pause, amend or cancel your subscription whenever you wish
How do I login to my account?
Go to the 'Manage Account' link in the top navigation menu.
You'll be asked for the email address you originally checked out with, to which you'll be sent a one-time passcode. If you've changed or can't access the email you used, just email support@ecolaundryclub.com and we'll change it for you.
Setting up a password (optional)
You can continue to use the one-time passcode method of logging in, or set up a password as demonstrated below:
How do I pause my subscription?
To pause your subscription, login to your customer portal. Click into your subscription above the 'Account Information' link and you will see the "Pause Subscription' option. Choose the length of time you would like to pause your subscription for. You can resume or 'unpause' your subscription at any time.
Resuming your subscription
If you resume your subscription prior to your next renewal date, then your subscription will renew on that date, as it normally would. However, if your subscription is still paused at your next renewal date, the subsequent resumption date will be the renewal date. For instance, if a subscription which renews 1st of every month was resumed (from paused state) on the 10th of the next month, the subscription renewal date will now be updated to 10th.
I need to increase/decrease the number of boxes delivered 
Ordered a little too much, or not enough? Not a problem. Log into your portal and click into the white panel containing your subscription details, titled 'Delivery every X weeks'. Then click 'Manage your subscription'. As illustrated in the animation, you are able to reduce or increase the number of boxes delivered on your renewal date.
In the example below, you can see a subscription for 2 boxes delivered every 4 weeks, scheduled to renew on the 22nd August. The number of boxes is reduced to 1, and the charge is correspondingly reduced. The same logic applies to an increase in quantity.
Can I order additional on an ad-hoc basis (one-off)
If you are an existing subscriber, then you can order additional boxes whenever you want by emailing support@ecolaundryclub.com. We will shortly be introducing this functionality to your customer portal, and will be in touch once this is integrated.
If you are reading this as a new customer, and would like to try our sheets but aren't sure about subscribing, remember you're free to pause, cancel or amend your subscription whenever you wish.
Yes, you can cancel whenever you want (and then resume at a later date if you'd like). Just log in to your portal and go to the 'Cancel subscription' tab. Please note that we'll need 24 hours notice from the date of your next order.
How do I change my payment details?
Log in to your portal and go to the 'Payments' tab and click edit.
How do I change my address details
Log in to your portal and go to the 'Address and shipping information' tab and click edit. Deselect the 'Use an existing address' checkbox and add your new address.
How do I use laundry sheets?
For heavy/family loads of washing, we'd suggest using two sheets, whilst for smaller loads, one will suffice.
Simply add the sheet/s directly into the drum and wash as usual (adding fabric conditioner in the normal way if also using).
What do I do with really stubborn stains?
Just as you would with other detergents, pre-soaking heavily stained garments can be beneficial. Add one sheet to a bowl of water (which will instantly dissolve) and soak for 20 minutes or so. Then wash as suggested above.
Is there a fragrance to the sheets?
Our laundry sheets carry a light, naturally derived scent which results in a far more neutral smell to your wash when compared to mainstream detergents.
We have a lot of information about what makes detergents 'smell fresh' here, but in short, it's often a concoction of chemicals, many of which are toxic. Worse still, manufacturers are not legally obliged to disclose all the ingredients that make up their fragrance!
If you then wear the garments washed in these chemicals, you are directly ingesting them.
We will shortly be launching some all-natural 'fragrance boosters' for those preferring a more distinct smell.
Can I use sheets for hand washing
Absolutely. Depending upon the condition of the garments to be wash, we'd usually recommend one sheet. This will instantly dissolve in the water.
For those with sensitive skin, you might find our sheets much less harsh on your hands than ordinary detergents.
What are the ingredients?
Water (extracted during manufacturing), naturally derived surfactants from coconut oil, polyvinyl alcohol, natural essential oil fragrance derived from Osmanthus.
Osmanthus Absolute Oil is antimicrobial, expectorant, detoxifying and stomachic. The aromatherapy properties of Osmanthus Absolute Oil are both soothing and comforting, lending to its use in essential oil blends for pain relief, meditation and yoga.
Polyvinyl alcohol (PVA) is an extremely common binding agent (often used in contact lens solutions and eye drops), which we use to create our instantly dissolving detergent sheets.
It is completely safe to both humans and aquatic life, and has been rigorously studied, due to its extremely high usage across a multitude of applications.
Is the all the packaging recyclable?
In a word, yes. All our packaging is recyclable.
Will the packaging fit through my letter box?
Our packaging has been specifically designed to easily fit through the vast majority of postboxes worldwide.
The dimensions of our boxes are 24mm H x 196mm L x 115mm W.

Do the sheets work in hot and cold water?
Yes, they dissolve instantly at either hot or cold water temperatures
How many sheets/washes are in a box?
There are 40 sheets in each box. For large heavily soiled loads we would suggest 2 sheets per wash, and 1 sheet for smaller loads
Where are your products shipped from?
All of our orders are shipped via Royal Mail directly from our fulfilment centre in Harrogate, North Yorkshire.
How long does delivery take?
Orders take between 1-3 business days to arrive. We ship via Royal Mail 2nd class, via existing Royal Mail delivery routes. This allows us to keep the carbon footprint to a minimum.